Tales From A Misspent Youth – volume 1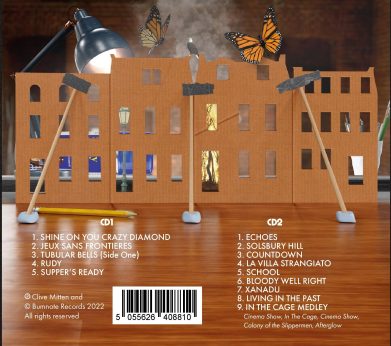 We are delighted to say that the CD was released as planned on Jan 28th, and that the digital album and selected tracks are now available to download. There have been some really positive comments both on Facebook and from some of our European fans/reviewers.
Here are just a few…
"FAN-TA-BU-LA-STIC …" LA VIE EN ROCK / KOID'9
"I love it." GUNTER SCHOTE
"Looks and sounds great". LEO TRIMMING
"The attention to detail is striking… 'Suppers Ready' is an intricate complex aural web…." PROG Magazine – issue 127
"It's extraordinary." KEVIN BORRAS
"Magnificent." CHRIS BEDDALL
"AWE SOME!!" FRATO POMELO
"I am moved to tears. MAUREEN SWIFT RAYNOR
While we know that reimagining prog rock classics won't be to everyone's taste, we know that as 'TN' fans you will give it a try, and continue to support Clive and our endeavours when you can. It is true to say that it is only because of your support that such releases remain possible, so THANK YOU! As a reminder it features tracks by Pink Floyd, Genesis, Rush, Peter Gabriel, Jethro Tull, Mike Oldfield, and Supertramp! It is a double CD priced at £12.
It is being released as a double CD and, as you can see, it runs to just over two hours over the two discs. It is accompanied by a full-colour booklet containing comprehensive sleeve notes written by Clive explaining the concept of the album, and giving detailed information about the tracks.
UK and Rest of the World customers should order from our website here.
EU customers from Bandcamp here.
Posted Feb 4th 2022