The C:Live Collective – This City Is London – 4 track EP
Buy the CD: £3.50
Line up: Clive Mitten, Mark Spencer, Fudge Smith, Stephen Bennett and James Mann
Recorded: 2018
Disc 1
This City is London - Gospel Mix (05.05)
This City is London - Beat Breaker Remix ft. MC Raff (05.34)
This City is London - Arrangement For Strings (Instrumental) (05:43)
This City is London - Progzilla Danger Monkey Remix (06:44)
Also available in a bundle with The Age Of Insanity:
Related products:
This City Is London is a 4-track EP comprising four very different mixes of the track that closes the Age Of Insanity album. It is presented in a simple gatefold sleeve.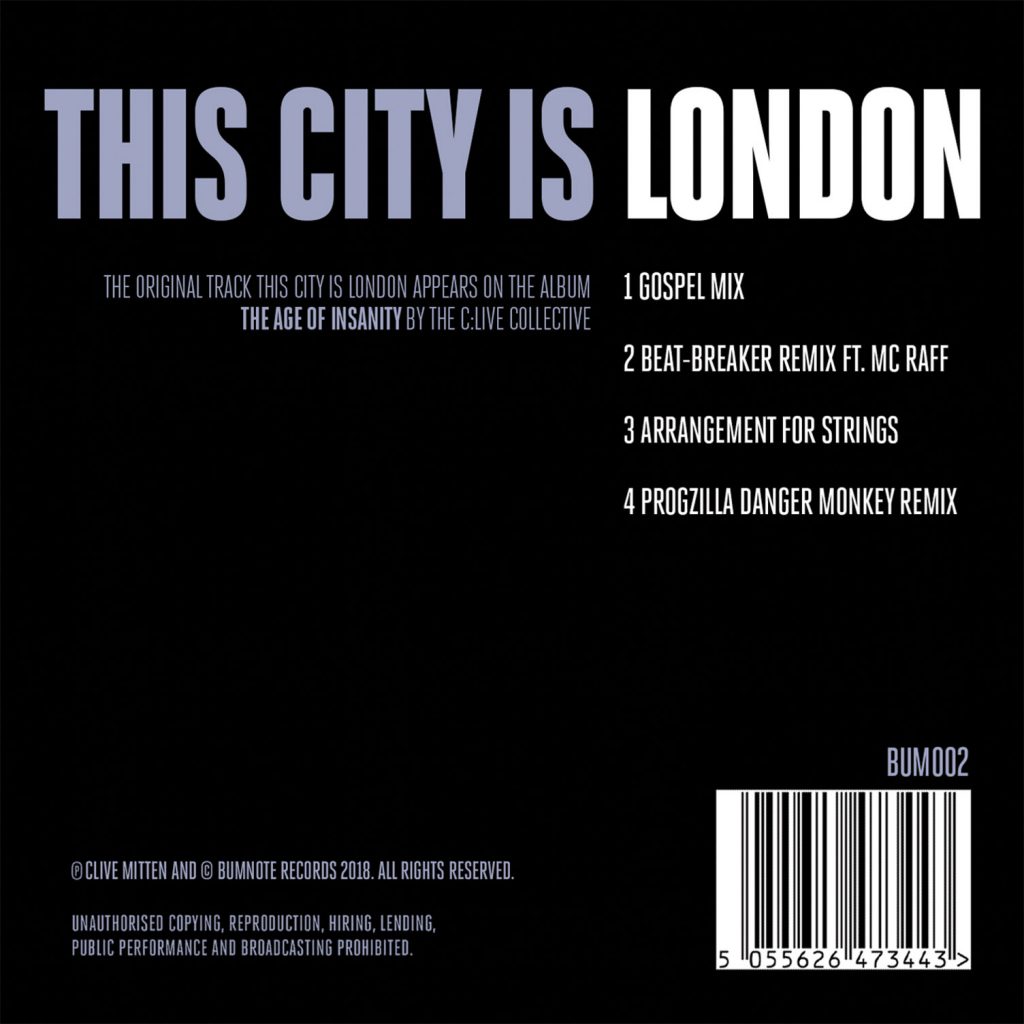 This City, as originally written and recorded by Twelfth Night, is a beautifully simple track that clearly lends itself to different interpretations and arrangements. Here it is in its expanded form, with additional lyrics from Clive, with the setting  moved from the original Salford (where Geoff Mann lived, near Manchester) to London.
The Gospel mix, which is closest to the version on the Age Of Insanity album, features the vocal talents of the House Gospel Choir, while the Beat Breaker mix is radically different featuring as it does the rapping of MC Raff, and a focus rather more on the 'London' aspect of the lyric. They are followed by a beautiful, haunting, instrumental version which gives a clue as to where Clive would be going next with his Orchestral Estate, and Suite Cryptique. The EP closes with a rather 'off the wall' fun remix, titled with a nod to our favourite Prog(zilla) radio station.
The original This City first appeared on the Smiling At Grief album, and subsequently on the Fact & Fiction album released in 1982. When we released the Definitive Editions of both these titles additional versions/arrangements of the track appeared (most notably by Tim Bowness & Koburg on F&F), making it the most covered track in the entire TN repertoire. There are also great live versions (sung by Mark Spencer) on A Night To Remember and (sung by Andy Sears) on MMX.
This City Is London with its definitive chorus of "we are all this city" speaks of the wealth and the poverty that co-exist together in this city. A rather poignant song for our troubled times really, and one that calls for us to "take it back", as ultimately "we are all this city".
All instruments: Clive Mitten:
Vocals: James Mann, Mark Spencer, The House Gospel Choir, MC Raff.
Written, recorded, engineered and produced: Clive Mitten
Artwork & Design: David Read