Andy Sears – Souvenir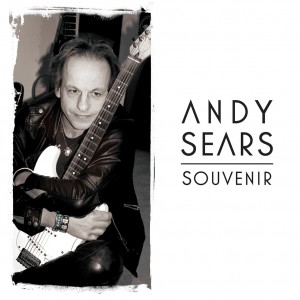 Line up: Andy Sears
Recorded: 2011
Tracks
Satellite (3:10)
The Dragon Inside (5:48)
Carapace (5:42)
Satellite – extended (6:32)
This City - revisited (6:28)
First New Day - live (9:18)
The Craft - instrumental (8:47)
Andy's first solo tracks released to coincide with his 2011 European tour. A limited edition CD of 7 songs and 3 bonus videos, with detailed sleevenotes.
Bonus Videos:
First New Day (9:14)
Satellite – instrumental (6:22)
Interviews at Loreley (3:31)
All instruments and vocals: Andy Sears. Additional keyboard programming: Dean Baker.
All tracks written and arranged by Andy Sears – except This City, First New Day & The Craft: re-written by Andy Sears based on original tracks by Twelfth Night.
First New Day: Filmed at the Montgomery Hall, Wath-upon-Dearne, Yorkshire, May 2010.
Images & Interviews: Filmed at the Night of the Prog, Loreley, Germany, Sep 2010.
Edited and produced by David Read www.id-8.co.uk
Live Loreley footage produced & directed by Antony Meadley (CASA Films) and David Read.
First New Day is also available on the CD & DVD release – 'MMX: Twelfth Night Live'.
Andy Sears 2011: "I hadn't planned on releasing anything as yet, so this does not constitute an official 'album release', being mainly a collection of demos and ideas I have been coaxed into bringing to light! Apart from the title track, it is highly improbable that any of these themes will form part of The Dragon Inside, my album currently in progress. If any do, they will have changed considerably, as I am a great believer in rewriting things until they feel 'right'.
I have been moving back and forth across 'La Mancha' these past years, and consequently have laid down the instrumental tracks myself (my sincere apologies to real guitarists, bassists, drummers, and keyboard players!) These demos have been recorded in various attics, basements, and bedrooms in Madrid, Barcelona, London, Stockport and Macclesfield.
Here are a few reviews…
"What a wonderful album it is. I honestly wasn't sure what to expect from this, but I was truly blown away. Carapace and the extended version of Satellite are terrific. The Dragon Inside is a fine song and will, I'm sure, be an absolute cracking epic when it gets full band treatment. First New Day – well what can you say – it's always been a wonderful song and Andy performed it majestically at The Albany a few years ago. Well done and congratulations on a fine 1st solo effort Andy!" – Alan Hutchinson
"I  really hope Andy can get around to finishing off the "proper" album asap (he calls these "demos" but they sound better than many bands full releases so don't think it's some half-arsed production quality and samples). I hate comparing things too much but if forced I'd say it has distinctive vibes of A&I TN, Marbles-era Marillion and flashes of PT/Blackfield (yes, that good!)." – Steve Blease
"…..and what's more….it is seriously good. Retro enough to please the old faithful: but contemporary enough to interest the iPod age. Most of all, it feels like the listener is accompanying Andy Sears through some of the darker times of his life and, at the same time, our own are being mirrored. If this is the prelude then the main act is unmissable." – Dave James
"The music on Souvenir alternates between melodic rock, Artrock and progressive pop. The climates in the seven tracks are in general subdued with Andy as multi-instrumentalist colouring the music very beautiful. His vocals are pretty distinctive with a lot of expression, like in the extended version of Satellite. Other strong songs are the compelling Carapace (intense vocals and a melancholic cello sound), the wonderful First New Day (delicate piano and strings) and the instrumental, mainly atmospheric The Craft (nice interplay between keyboards and guitar). In the Twelfth Night cover This City we can enjoy Andy his very special vocals in its full splendour in a sumptuous climate, supported by fiery guitar runs. With your computer you can watch the live images of First New Day and Satellite (instrumental) and an interview during the Loreley festival." – Erik Neuteboom – iO Pages, Holland